Meet The DFW Off Leash K9 Team
Justin - Regional Director
Justin is the Regional Director for the DFW area. He manages the day to day operations, and prides himself in communication with trainers and client's. He has had a relationship with dogs since he was a young boy. Growing up he and his father spent most of their time training and working with hunting dogs. He has always had a passion for retrieval and field work.
At the age of 18, Justin enlisted into the United States Marine Corps and was stationed in Okinawa, Japan. He deployed to Afghanistan for a total of 9 months in support of Operation Enduring Freedom. In 2013 he attended American K9 Special Service for the basic and advanced obedience instructors course.
After leaving the Military in 2014, he worked as a contractor in the private security industry. In 2016, Justin made his way back into obedience dog training. Since then he has trained hundreds of dogs, specializing in behavioral modification and aggression rehabilitation.
He is a proud member of the International Association of Canine Professionals. He also holds certs as an AKC evaluator, and therapy dog certification. Justin resides in DFW with his wife, son, and 6 working dogs.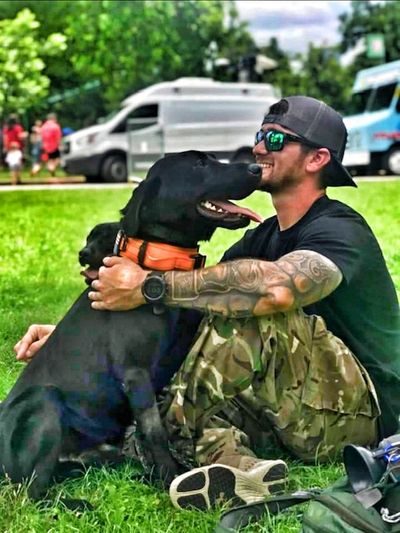 Mallory has had a passion for working with animals from a young age. Growing up in Flower Mound she knows the DFW area very well.
It all started when Mallory rescued a lab mix named Ford. She helped him gain confidence from his abusive past and worked on him with retrieval. Mallory aided her husband, Justin, with his many training dogs, utilizing and incorporating her extensive equestrian knowledge. 
She now has her own Belgian Malinois, Groot, who she has taught agility and sport protection work. After training hundreds of dogs, she still enjoys working with different breeds and learning each time she works with another dog.
Mallory resides in North Texas with her husband, Justin, their son, and 6 working dogs.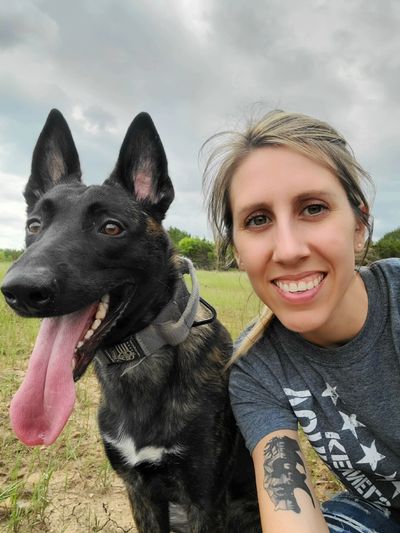 Meet Our Amazing Trainers
Brandon served 7 years in the Air Force Security Forces, the last part of it as a Military Working Dog Handler. After his honorable discharge, he completed a 3-month trainer course at AK9I in Virginia where he learned more complex ways of teaching and training dogs. 
He graduated with his working dog "Monkey", an 18 months old Malinois certified for patrol and explosives. Brandon's passion has always been dogs and figuring out what makes them "tick", which is why we're happy to have him on board. 
Brandon's easy-going personality and calm demeanor prove him to be an excellent addition to our team.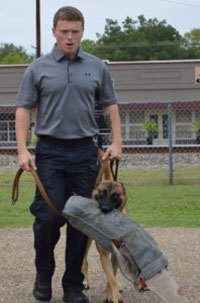 Hello, my name is Ryan Zimmerer. I grew up on a farm around working cattle dogs, along as working around working Labradors that retrieved birds for us when we were hunting. After joining the Marine Corps I got out and went to college and got my degree in Farm and Ranch Management. 
I have been around dogs my whole life training my own personal dogs to work cattle. For the last 4 years I've been a part of Adaptive Training Foundation as an athlete learning to workout around my amputation. It is a non profit gym in Carrollton that works with teaching veterans and civilians how to work out and exercise around their injuries and disabilities. I'm now a head trainer there working to help others learn to work out and take control of their lives again. Most recently I have trained my own service dog and found my true passion of working with dogs. 
Training dogs to do obedience is the foundation for teaching service dogs, and something I take a lot of pride in. I look forward to working with and training your dog, helping him realize his potential of being the best dog around.
Brittany has been in love with animals since she was a young girl. Her passion and dream was to grow up rescuing and training animals of all breeds. As a young adult, Brittany rescued a cat named 'Panther' off the streets and leash trained him in obedience. A few years ago Brittany adopted her first Pitbull named Lana, it was at that moment she discovered her true passion for training animals. She began donating her time to non profits, assisting in the care and training of rescue dogs. She began professionally training with Off Leash K9 Training DFW and has helped countless families and dogs since then.
Brittanys favorite aspect about training, is learning and assisting with different personalities and behaviors. Each dog has its own personality, and she loves bringing out the best with each client she works with.
Laci has had a relationship with animals since she was a young girl. Growing up raising horses, cattle, and dogs has given her quite a bit of experience. Her father, was a very experienced hunting guide, and most of her childhood was spent assisting him in the training and guidance of bird dogs.
As a young woman, she entered the world of Schutzhund where she gained hundreds of hours of experience in the sport of working style dogs. She has two German Shepherds, Kenai and Nova, that are highly trained and experienced in this style of work.
Laci comes with an extensive background in working with clients and animals. Her favorite aspect of training, is problem solving the scenario, and helping the family become better bonded with the animal.
Sam's relationship with dogs started as a young boy when he got his first dog at the age of 4. He grew up knowing he wanted to do something more. That ultimately led him into joining the United States Marine Corps at the age of 17. He entered the service as a Military Police Officer stationed at Camp Pendelton. One month after being a MP, Sam immediately made the jump to be a k9 handler. His first Military working dog was a Belgian Malinois named Delilah. Together, Sam and Delilah worked as team conducting patrol work and drug detection. After their training together was complete, Sam took control of his next dog. A German Shepherd named OC. Sam and OC worked together completing tactical training missions including suspect apprehension and urban building searches. After completing their training together, Sam was excelling and completely proficient in his handling work and he wanted to further his education and experience.
Sam entered the Specialized Search School at Lackland Air Force Base and after 3.5 months he become certified with a Labrador, Max. They entered the fleet together conducting several pre-deployment training operations.
During his time in service of 4 years Sam successfully worked with a total of 5 military working dogs. He has completed several schools since then, mastering the art of the e-collar and off-leash training. Sam's passion still ignites a burning flame for working with dogs. He prides himself in his ability to communicate with dogs.
One of his favorite portions of obedience training, is the ability to give the owner and their dog a stronger bond.
He resides in the DFW area with his wife and their 2 dogs Fred and Freida.
Brian served in the United States Marine Corps.  He deployed to Afghanistan as an IED Detection Dog handler in 2010. Brian was wounded in an IED blast in April of 2011. After getting medically retired, he was awarded the opportunity to adopt his bomb detection dog, Buckshot.  Buckshot lived an excellent life with Brian and his family until his passing in 2021. 
Brian obtained a new lab puppy, Sabot, to train up to be his service and detection dog.  As he started to train him, his passion for working with young pups came to light. 
Brian teaches Star Puppy Classes and truly loves working with dogs and their families. His favorite aspect about puppy training is the ability to free shape the dog and help it adapt to the world in a positive manner.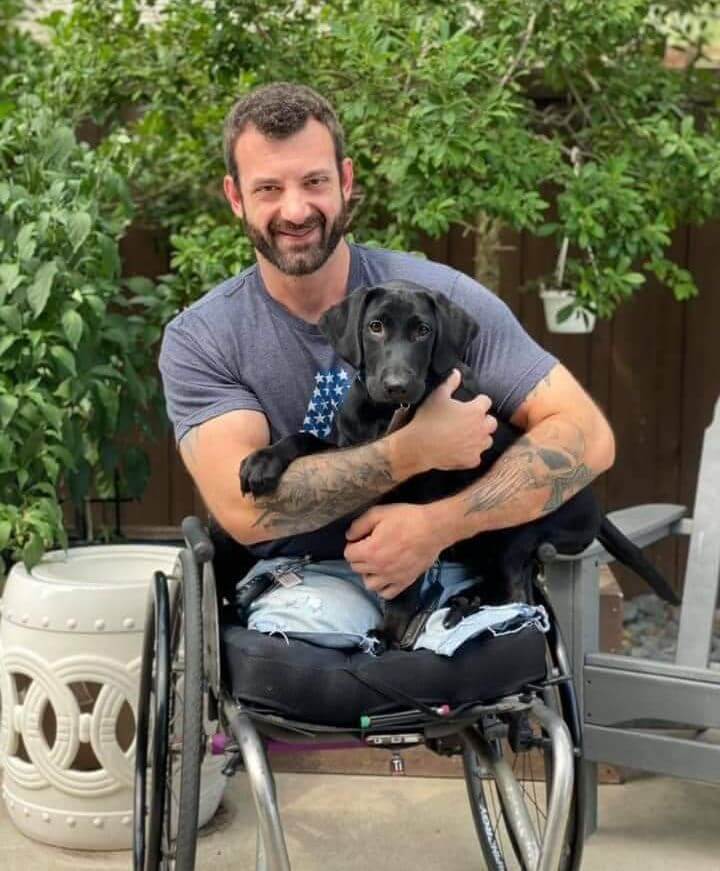 Andy was born and raised in Carlsbad, NM, and moved to the great state of Texas a while back.  He grew up working dogs as a child and a young teenager.  After honorably discharging from the Marine Corps, he went to work in the oil field. He wanted a companion to hang out with during the long work hours, so he obtained a red heeler and started training her and polishing his skill set. 
Andy's passion for working with his own dogs led him to a career of training dogs professionally for other people. After graduating from the in-house OLK9 trainers' school he decided to attend another school-based around working dogs, such as explosives, detection, and patrol work. He wanted as many tools in his belt as he could get. After graduating from both schools and working with several different types of dogs he is a well-rounded trainer.
Andy highly enjoys helping you grow your relationship with your dog while giving you the skills you need to be a successful dog owner.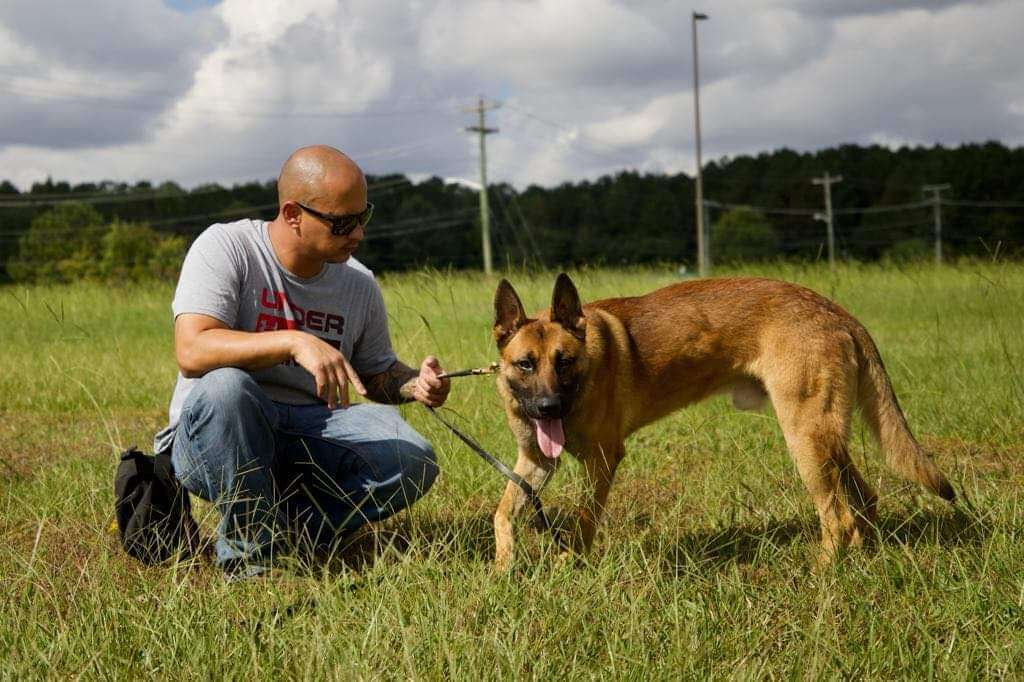 Keith is a 20-year Navy Veteran, a hospital corpman that specialized in medical laboratory.

Once he got out of the military, he started becoming involved with dog training, and in particular, field and trial, and obstacle courses. He has been training for approximately 15 years, and occasionally trains for shows as well.

His passion is helping people with their dogs and helping to develop that bond between them.
Misty started her journey with dogs and other animals as a young girl. In the 8th grade, she insisted on rescuing a dog from the local shelter. She and her family adopted a 6-month-old Doberman named Dee. Misty spent the next several months teaching her obedience commands and building her confidence. Along with Dee, she also assisted in raising goats, chickens, rabbits, and almost every other animal you can think of. She had a fascination for watching and working with different types of animals.
While she had a large passion for this, she entered the medical industry as an Ophthalmic Technician, she spent 27 years helping people with their vision. With that being said, she has always enjoyed helping people and their families.
Misty came to us Off Leash K9 Training as a client in 2021 to have her dog, Rush, trained as a therapy dog. The issue was Misty had already trained Rush for 90% of what he needed to be a successful therapy dog. She wanted to put smiles on people's faces and help the community. Not long after, Misty joined us and has successfully helped several families build better relationships with their dogs.
Misty is enthusiastic and always willing to take each dog as far as they can in training. Her favorite aspect of dog training is spending quality one-on-one time with each animal and building relationships. She loves watching all of her clients succeed and grow.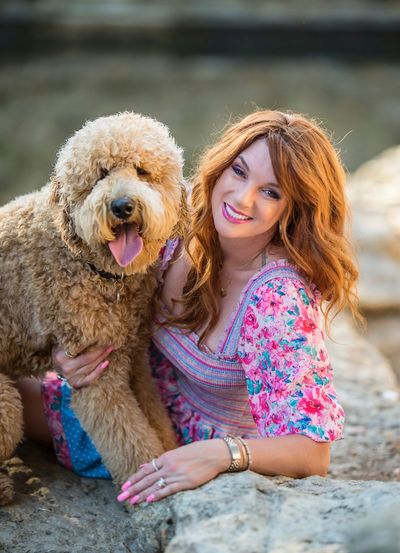 Jacob served in the United States Army as Infantry and, although never working with them directly, always had a fascination with the military working dogs and their capabilities. Upon returning from deployment, he got his first working-style dog, A Belgian Malinois, named Nylah. This was the catalyst that led to a passion for training dogs.
Jacob had entered one of Off Leash K9's training programs, and after going through the program, he realized how much he truly enjoyed the art of dog training and couldn't help but want to do it as a full-time thing.
Jacob's favorite aspect of dog training is watching the owner's reaction to the dog's newly learned obedience, which they never thought possible.
Johnny grew up with a family that bred dogs in upstate New York. His childhood love for his working line Doberman Pincher named Thor began his interest in a training relationship with dogs. He has always had a furry companion by his side.
After spending years with a passion for fitness and MMA, Johnny found his love for training others through personal training. He pioneered a self defense class targeted in equipping clients with skills needed for real life defense. His has always enjoyed working with clients to achieve their personal goals as a trainer.
His working-line German Shepherd, Brando, was trained at Off Leash K9. Johnny feels passionately that Brando's training as helped form their inseparable bond and allowed Brando to have a happy off-leash life in Lower Greenville in Dallas.
Working with the trainers of OLK9 sparked his interest in working with clients and their dogs. His favorite aspect of training is giving clients the tools and experiences to build a bond like his with Brando through obedience. He wants all dogs to live a happy, safe and fun off leash life.
Cameron served 5 years in the United States Marine Corps as a F/A 18 technician. After he received his honorable discharge he went home to his family and had his dog, "Loki" professionally trained through a 2 week board and train program.
Cameron soon realized his passion for dogs and watching them learn and progress through training. He's been fascinated with what dogs are capable of, and wants to make an impact in family homes.
Cameron spent several years learning and understanding dogs and finally made the decision to change his career. His first step was attending a 3 month long Patrol Dog Handler/Trainer course at AK9I in Virginia. Cameron learned a lot from this program and it has started his journey into learning more about dogs and how they learn.
He graduated AK9I with his working dog "Ember", a 2 year old German Shepherd who is single purpose certified for explosive detection. After working with several obedience and behavioral cases he has realized the positive impact his brings to the dog training community. He highly enjoys getting involved in helping dogs become better dogs while also making owners better handlers of their furry family members.
do you have questions for us?
Or Call us for a free consultation today!
About Off Leash K9 Training
Dog Trainers that Are Recognized Around The World!
Nick White is the Owner and Founder of Off Leash K9 Training.  Nick is a former US Marine and former US Secret Service. He currently has over 130+ dog training locations throughout the United States.
Nick is globally recognized as being one of the top dog trainers in the world.  He has 2 official world records in off leash obedience, named on Wikipedia as one of the top 20 dog trainers in the world, recently named top 10 trainer in the world by bestdogtrainers.org, has been featured in many magazines and shows, and he is regularly requested by the top celebrities and athletes! He has been called upon by people such as actor Ryan Reynolds, WWE's John Cena, MLB All Star Max Scherzer, UFC World Champion Jon "Bones" Jones, and many more!
You can visit our YouTube Channel and watch over 1500+ before/after videos of Nick and his team's work!  Off Leash K9 Training has more documented videos than any dog training business in the entire world!